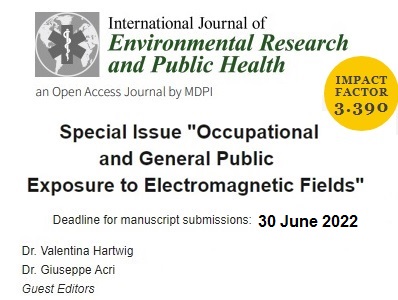 E' ancora possibile sottomettere contributi per la Special Issue intitolata "Occupational and General Public Exposure to Electromagnetic Fields" della rivista open access International Journal of Environmental Research and Public Health (IJERPH) IF 3.390 (Guest Editors: Dr.ssa Valentina Hartwig, Dr. Giuseppe Acri).
La Special Issue ha l'obiettivo di arricchire la letteratura sul tema, oggi più che mai attuale, dell'esposizione umana ai campi elettromagnetici riportando i più recenti progressi della ricerca multidisciplinare sull'argomento. Verranno trattati diversi ambiti di esposizione, sia domestici che professionali, e svariati temi quali la sicurezza in ambito professionale e della popolazione in genere, la modellizzazione e valutazione del rischio, gli studi sugli effetti biologici e le normative vigenti.
La deadline per la sottomissione dei contributi è il 30 Giugno 2022.
Per maggiori informazioni:
https://www.mdpi.com/journal/ijerph/special_issues/Occupational_and_General_Public_Exposure_to_Electromagnetic_Fields